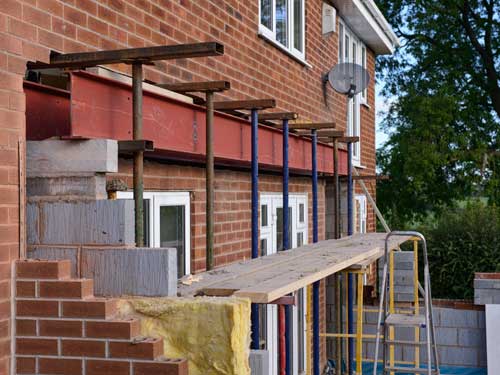 A brief summary of the Building Control Process
House prices have risen significantly, in most areas, during the past couple of years. Building an extension or converting an underutilised area is often a cheaper alternative to buying a new property.
However, before embarking on such an enterprise, you need to determine if building regulations approval is required. Most building works require Building Regulations approval. Some small conservatories, porches and detached garages are exempt from Building Regulations. However, please contact us for clarification prior to commencing your project.
What are Building Regulations?
Building Regulations are a set of standards designed to ensure the health, safety and higher standards of living for buildings in which people live and work. Also, energy efficiency within buildings is becoming increasingly important and, also, form part of the Regulations, not only to reduce fuel bills but reduce carbon emissions. The Government publishes guidance on ways to meet Building Regulations, and these are set out in what's called the Approved Documents. These are free to download at https://www.gov.uk/government/collections/approved-documents#approved-documents
We have determined that building regulations approval is required, but how much will it cost? On the home page of our website, we have an online Quotation Form. Simply, complete the form and upload any drawings you currently have for the proposed project, and you will receive a formal fee proposal within 24 hours.
Compliance Building Control Appointment
If our fee proposal is acceptable, the next stage is to complete and sign the Schedule of Appointment. Again, we have simplified the process and the form can be submitted online, (there will be a link in the formal fee quotation you receive).
Building Control Application
Upon receipt of the Schedule of Appointment, our Administration Team will contact the relevant Local Authority to inform them that Compliance Building Control will be carrying out the building regulation approval on your behalf.
When can I start the work?
Please be aware that you should allow a minimum of 5 working days from the Initial Notice submission to the commencement of any works on site.
Please provide any plans, structural calculations and other pertinent information to CBC when you accept the formal quotation. This will enable your Surveyor to review the proposals in advance of commencement and advise you of any changes which may be required to ensure compliance with the Building Regulations.
You will be notified of your Approved Inspector's contact details. He or she will liaise with you or your builder/project manager regarding site inspections.
Upon the satisfactory completion of the works, a Final Certificate will be issued. This must be issued within 8-weeks (4-weeks for non-domestic projects) of the completed project being occupied. The Final Certificate should be retained with the property deeds to demonstrate compliance with the Building Regulations.